The size of your family is usually the determining factor for which Ford SUV is best for your active lifestyle. With the Ford SUV Lineup, you and your family will be able to choose from one compact SUV, two mid size SUVs, and two full size SUVs, all of which are critically acclaimed by review sites such as Edmunds.com, KBB.com, and U.S. News & World Report. To help put you in the SUV you've had your eye on, our Ford dealership in Huntley, IL maintains one of the largest inventories of the best Ford SUVs in the area. Whether you need the cargo capacity of a new Explorer or the versatility of a new Edge, our Ford dealership is sure to have an option that matches the driving experience you've been looking for from a Ford SUV.
We want to make sure you know everything there is to know about the vehicle you're considering. That's why we created this comprehensive research page of Ford compact, mid size, and large SUVs.
Don't forget! At Tom Peck, we also have a number of financing and Ford SUV lease options available for you to take advantage of. And be sure to check out our incredible selection of new and used Ford SUVs for sale at our Huntley, IL dealership.
If you have any questions you'd like our team to answer, take a moment to give us a call at (877) 841-2409 and we'll be happy to assist you.
---
Ford SUV Towing Capacity & Performance Table
When it comes to Ford SUV performance and towing capacity, few manufacturers have what it takes to compete. Each Ford SUV features powerful engine options that don't sacrifice fuel-efficiency. If you want a Ford SUV with EcoBoost® engine technology, each SUV has at least one option available. When you choose a Ford SUV with tow package equipment, you won't have any trouble traveling with a camper or trailer. Take a look at the table below for Ford SUVs in the order of size for features that include Ford SUV MPG, sizes, ratings, seating, and performance specifications for each available engine.
Model
Escape
Edge
Flex
Explorer
Expedition
Seating Capacity
5
5
7
7
8
Engine Options

 2.5L I4
 1.5L EcoBoost® I4
 2.0L EcoBoost® I4

 2.0L EcoBoost® I4
 2.7L EcoBoost® V6
 3.5L Ti-VCT V6

 3.5L Ti
 VCT V6
 3.5L EcoBoost® V6

3.5L Ti-VCT V6
 2.3L EcoBoost® I4
3.5L EcoBoost® V6

Max. Horsepower
245 HP @ 5,500 RPM
315 HP @ 4,750 RPM
365 HP @ 5,500 RPM
365 HP @ 5,500 RPM
365 HP @ 5,000 RPM
Max. Torque
275 lb.-ft. @ 3,000 RPM
350 lb.-ft. @ 2,750 RPM
350 lb.-ft. @ 3,500 RPM
350 lb.-ft. @ 3,500 RPM
420 lb.-ft. @ 2,250 RPM
Max. MPG City/HWY
22/29 MPG
21/29 MPG
16/23 MPG
16/22 MPG
15/21 MPG
Max. Towing
3,500 lbs.
3,500 lbs.
4,500 lbs.
5,000 lbs.
9,200 lbs.
Max. Passenger Volume
98.7 cu.-ft.
113.9 cu.-ft.
155.8 cu.-ft.
151.5 cu.-ft.
168.3 cu.-ft.
---
Ford Small SUVs & Compact Crossovers (Ford CUVs)
If you are looking for a vehicle with the space and convenience of a minivan with the power and handling of a sedan, a Ford CUV is an excellent choice. With a Ford small SUV, you'll experience versatile seating configurations, ample cargo capacity and nimble handling. Take a look below to see what this Ford crossover model has to offer.
---
2018 Ford Midsize SUVs
Any Ford midsize SUV you choose will be an invariably good decision. With a medium sized SUV from Ford, you'll never have to worry about whether or not you have enough cargo room. Peruse the information below to see what each of these intermediate SUVs has to offer.
Starting at $29,220

Engineered to add power and state-of-the-art technology to every commute, the Ford Edge is the best midsize SUV for drivers that want a practical and convenient vehicle that's equally fun to drive. With EcoBoost® engines and Adaptive Cruise Control, the Edge is a midsized Ford SUV that just won't quit.
Starting at $31,990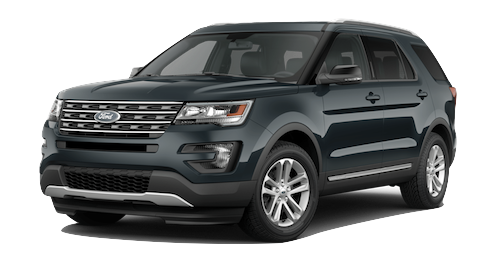 One of the top Ford SUV models to date, the Ford Explorer is touted as a reliable vehicle that will adapt to everything from your daily drive to weekend excursions. Updated with a new design and technology almost every year, the Ford Explorer is a midsize SUV built to provide the absolute best in power, comfort, and versatility.
---
Ford Large SUVs (Fullsize)
If you are looking to add immense power and capability to your life, then you are definitely looking for a Ford fullsize SUV. Whether you choose the Ford Flex or the Ford Expedition, these Ford large SUVs offer performance and comfort beyond what you'd expect from a sport utility vehicle.
Starting at $30,195

The most elegant fullsized Ford SUV in the lineup, the new Flex sets itself apart with a unique design strategy and impeccable power. Add an EcoBoost® engine and 83.2 cu. ft. of cargo space to your daily drive and this large Ford SUV will comfortably and efficiently get you where you need to go.
Starting at $51,695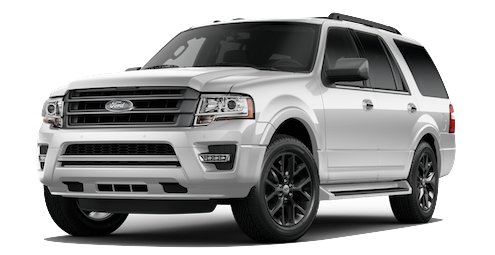 There's a reason that the Expedition is the Ford SUV cops use. Do you need a full Ford SUV with best-in-class size and seating to accommodate your growing family? The new Ford Expedition is the largest Ford SUV with 3rd row seating that provides interior space for eight passengers and up to 130.8 cu.-ft. of total cargo space to help you get through a weekend to-do list. For those that want a Ford SUV with all wheel drive, the Ford Expedition has got you covered in almost any weather condition.
---