Transit Inventory & OffersCall To InquireContact Us
Finding an exciting commercial vehicle to elevate your daily drive isn't difficult with the assistance of Tom Peck Ford and the 2019 Ford Transit. Our dealership near Elgin, IL, crafted the following engine comparison to ensure you find the best engine for your everyday power needs. If you're questioning what you truly need beneath the hood of the Transit, you can ask our team anything or give us a call at (877) 841-2409.
3.7L Ti-VCT V6 Engine
Providing the power you desire, the 2019 Ford Transit is the commercial vehicle you need for complete satisfaction on every drive. This 3.7L Ti-VCT V6 engine option won't disappoint with its 275 horsepower and 260 lb.-ft. of torque. The destination you desire will never be difficult to reach while using this Transit engine.
3.5L EcoBoost® V6 Engine
Need more power than the 3.7L Ti-VCT V6 can provide on your daily drive? The 3.5L EcoBoost® V6 has exactly what you're looking for with its 310 HP and 400 lb.-ft. of torque. Whether your commercial vehicle is transporting passengers or cargo, this engine will never let you down.
3.2L Power Stroke® I-5 Diesel
If you're in constant stop-and-go traffic or leave your engine constantly idling, then the 3.2L Power Stroke® I-5 Diesel will work perfectly with your daily routine. Invest in 185 HP and 350 lb.-ft. of torque and you'll find yourself on a reliable commute without any worries.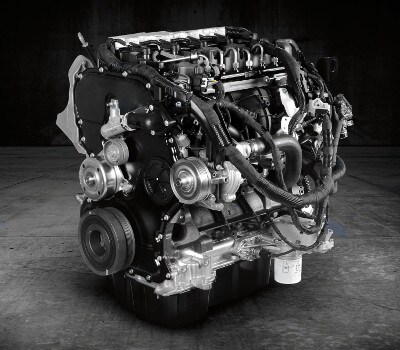 Payload Packages
To prepare for the days when payload power is a must, the 2019 Ford Transit has multiple packages that will assist you. Available hauling capability options include:
8,550 GVWR Payload Package
8,600 GVWR Payload Package
9,000 GVWR Payload Package
9,150 GVWR Payload Package
9,250 GVWR Payload Package
9,400 GVWR Payload Package
9,500 GVWR Payload Package
9,950 GVWR Payload Package
10,360 GVWR Payload Package
Next Steps
Take advantage of one of the many special offers that Tom Peck Ford can provide at our dealership near Elgin, IL. We're here to make sure the 2019 Ford Transit you choose is the ultimate fit for your commute. If you have any questions about the 2019 Ford Transit engine options, don't hesitate to contact our team online or call (877) 841-2409.