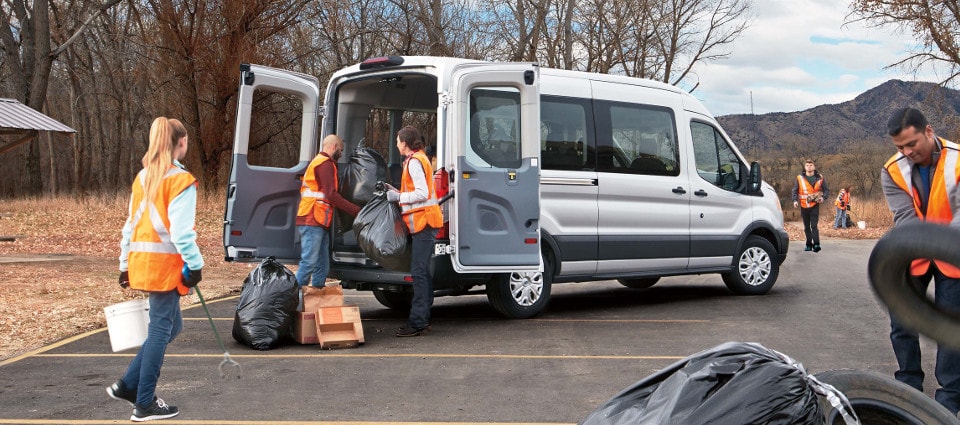 Transit Inventory & OffersCall To InquireContact Us
Do you need to customize your 2019 Ford Transit to your vocation or just to your specifications? Tom Peck Ford would like to assist you with the best upfits for your daily drive. Our dealership near Elgin, IL, specifically organized your upfit options in the following guide. If you're interested in the special offers or want to know more about the available upfits for the 2019 Ford Transit, feel free to ask our team or call us at (877) 841-2409.
Upfit Options
If you're interested in upfitting the 2019 Ford Transit, Tom Peck Ford experts created the following easy to follow guide to help determine what you need. Browse through the following options to decide what is necessary to elevate your daily drive.
Wheelbase Options
You can find multiple available wheelbases to upfit the 2019 Transit. Finding exactly what you want is easy with the help of Tom Peck Ford. Choices for your Transit wheelbase include:
Regular Wheelbase- 130"
Long Wheelbase- 148"
Extended Wheelbase- 148"
Roof Options
Depending on the cargo you need to deliver or passengers you need to haul, this upfit guide will provide you with the available roof heights that the 2019 Ford Transit has to offer. Continue reading to discover the available Transit choices.
Low Roof- 83.8"
Medium Roof- 100.8"
High Roof- 110.1"
Door Options
Do you need a specific door configuration on your 2019 Ford Transit? Browse through the following to determine which option is the best fit for your lifestyle.
Single Door
Barn Doors 60/40
Dual Doors
Brands
If you're interested in finding an upfit by a specific brand, then Tom Peck Ford has listed all the available ones to work with for the 2019 Ford Transit. The following list provides all brands working with the Transit on upfit selections.
Adrian Steel
Katerack®
Masterack®
Exxpand™
Transit Works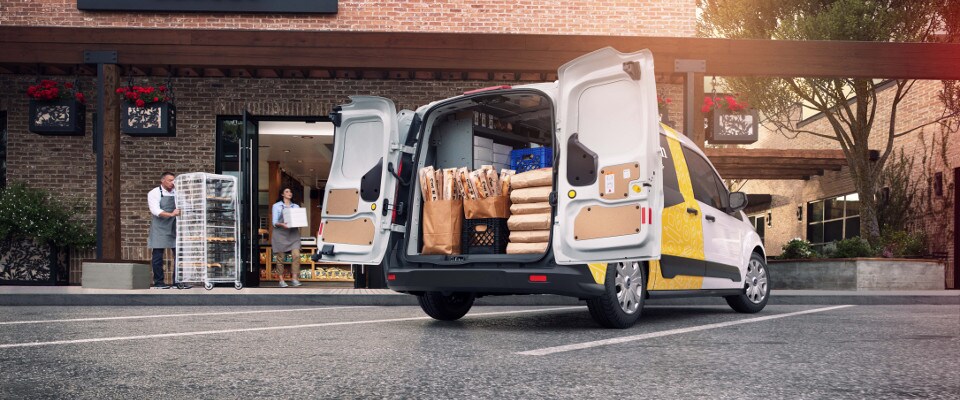 Upfits by Vocation
Ensuring your 2019 Ford Transit is built to the exact specifications for your job is easy. Simply discover your vocation below and determine what upfits are necessary for you to be more successful every day on the road.
Plumbing
It's clear that the 2019 Ford Transit has the ability to provide the perfect commercial vehicle upfits for your plumber career. To further understand just how you can customize the Transit to your liking, here are a few of the available upfits for this vocation.
Plumbing & HVAC Starter Package
Wire Mesh Bulkhead
Double Grip Aluminum Lock Ladder Rack
Steel Floor Drawer
Side Window Sliding Screen Doors
General Contracting
When you're in need of heavy-duty steel interiors built with the general contractor in mind, the 2019 Ford Transit will produce exactly what you need. You'll find the perfect shelving unit for your commercial vehicle. Some of the available choices with the Transit include:
Steel Racks & Bins Package
Triple Shelf Starter Package
SmartSpace General Contractor Package
Globelyst Standard Package
General Service Starter Package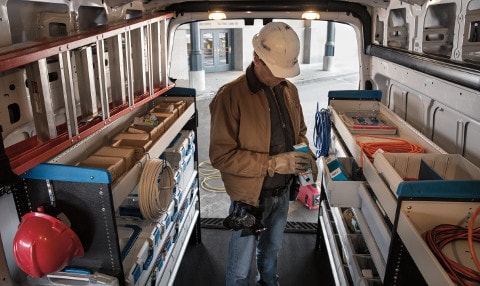 HVAC
The 2019 Ford Transit is not lacking in dividers, steel cabinets, and bins to assist you with your dailwork. Keep everything stable and organized through every drive with some of these key upfits.
Single Compartment Floor Drawer
Single ErgoRack Ladder Rack
Side Access Shelving
Additional 10" Drawer
Partition Starter Pack with Visibility
Electric
Ensure your tools and wiring are organized to your satisfaction with the assistance of the upfit options for the 2019 Ford Transit. From additional shelving to convenient storage space, the Transit is prepared to help. Multiple upfits you can find with this Transit include:
SmartSpace Electrical Contractors Package
Steel Partition
Triple Compartment Floor Drawer
Two-Bar Aluminum Utility Rack
Rear Door Window Screens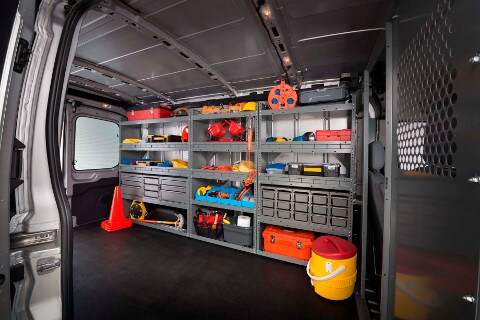 Catering
Organization will never be an issue with the 2019 Ford Transit. Whether you're in need of specific shelving or racks, the upfit availability for the Transit will have exactly what you desire for your catering career. Some of the choices include:
3" Deep Drawer Cargo Rack System
Wire Mesh Partition
6" Drawer Extension Kit
Dejana Enclosed Partition with Two Windows
Street Side Window Composite Partition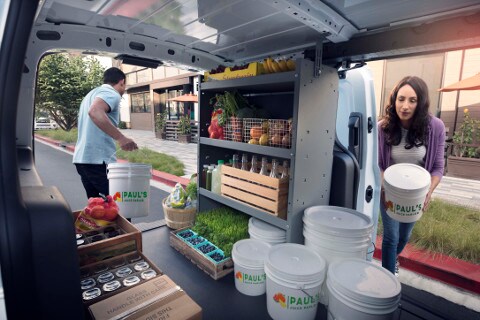 Passenger Transport
Easily accessible seating and sturdy floor mats are must-have upfits when it comes to transporting passengers in the 2019 Ford Transit. These components will make delivering passengers from point A to point B simple. Upfit additions that can be provided with this Transit model include:
Go Seat
3PT Seat
Smartfloor 3PT Seat Max Capacity- RWB
Smartfloor 3PT Seat Max Capacity- LWB
Smartfloor- RWB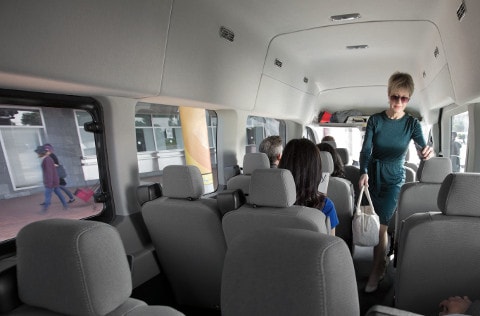 Upfit FAQs
Will the upfit installer deliver the finished vehicle to my dealership, or will I need to have it picked up?
Once your 2019 Ford Transit has been installed to your specifications, the technicians will deliver your Transit back to the dealership. Tom Peck Ford will notify you when your Transit has arrived and is ready for your inspection.
What are the differences between a passenger van and cargo van?
The main difference you can find between a passenger van and cargo van is the additional rear seating found in the passenger van. You can also find second-row sliding windows as well as rear fixed glass windows in a passenger van. The cargo van does not include seating, but does provide optional second-row and rear fixed glass windows.
Can I configure an interior system upfit for a vehicle that has already been purchased?
Once you have purchased a 2019 Ford Transit, contact our team at Tom Peck Ford and we will work with you to find the perfect configuration of upfits.
How long will it take to build a vehicle configuration?
The time frame of your upfit installation is dependent on the volume and availability of the parts you desire. Tom Peck Ford will keep you updated on the status of your Transit and will contact you immediately once it is ready.
Why Professional Upfitting Services at Tom Peck Ford?
Tom Peck Ford near Elgin, IL, will ensure that the upfitting of your 2019 Ford Transit is completed with the utmost care and precision. No matter the job you perform, our talented technicians will put in every effort to provide the satisfaction you need. For assistance in working the upfits you desire into your Transit, feel free to contact our team online or give us a call at (877) 841-2409.